Robert Koehler's
The Strike
The Improbable Story of an Iconic 1886
Painting of Labor Protest
"A fascinating study of an artist and the fate of his most renowned painting. . . . Clear and readable . . . it takes on the character of a cultural mystery."
—Lewis Erenberg, author of The Greatest Fight of Our Generation
In 1886 the German-American artist Robert Koehler painted a dramatic wide-angle depiction of an imagined confrontation between factory workers and their employer. As an alarm of class conflict and the cause of workers' rights, The Strike, although executed in Munich, was first exhibited in New York City just days before the tragic Chicago Haymarket riot and became a lasting inspiration for the labor movement. In the midst of the struggle for an eight-hour workday, it gained international attention at expositions in Munich, Paris, Milwaukee, and the 1893 Chicago World's Fair.
Though the painting fell into obscurity for too many decades in the twentieth century, The Strike lived on as a wood-engraved reproduction in labor publications. Its ultimate purchase, restoration, and exhibition by New Left activist Lee Baxandall in the early 1970s then launched it to international fame once more. It is now housed permanently in the Deutsches Historisches Museum in Berlin, Germany.
Art historian James M. Dennis has crafted a compelling "biography" of Koehler's painting: its exhibitions, acclaim, neglect, rediscovery, and return to Germany. He introduces its Milwaukee-raised creator, its politically diverse audiences, and traces the painting's acceptance and rejection through the years, exploring how class and sociopolitical movements affected its reception. Dennis pays special attention to the significance of key figures in the painting, such as the woman asserting her presence in the center of action. He compellingly explains why The Strike has earned its identity as the iconic painting of the industrial labor movement.

The Strike 1886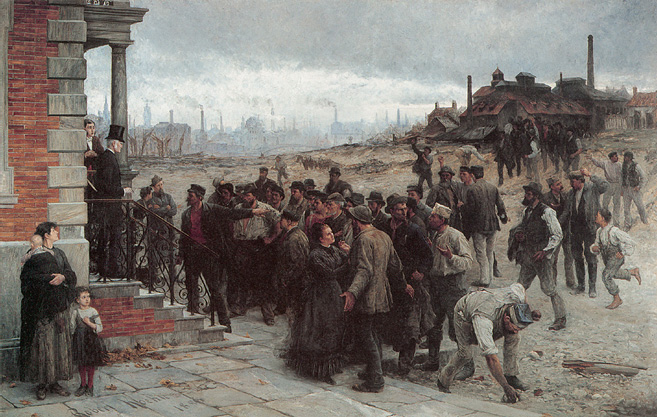 Robert Koehler (1850-1917)
Robert Koehler was a German born painter and art teacher who spent most of his career in the United States. Koehler was born in Hamburg and his family moved to Milwaukee, Wisconsin in 1854. There he attended the historic German-English Academy and also studied art from Henry Vianden. After some time working as a lithographer in New York City, Koehler went to Munich in 1873 to enroll in its Royal Academy. There he studied under Karl von Piloty, Ludwig Löfftz and Franz Defregger. His efforts while in Munich won him silver and bronze awards from the Academy, and Bavaria's Cross of the Order of St. Michael.
.
In 1893, Koehler, having left Munich the year before, became director of the Minneapolis School of Fine Arts. As he successfully settled into his combined roles of teaching, art administration, husband, and father, his creative output was to consist primarily of portraiture, including self-portraits, and occasional landscapes. Purchased through an honorary public subscription, his singular masterpiece was hung in the Municipal Library and soon after his death put into interminable storage awaiting eventual rescue and recovery.